It's been about a month since I returned from Tokyo, much due to my wonderful readers I was able to visit some great stores. So I thought it would be nice to write a post about the stores that I enjoyed the most. To summarize it you cannot visit Tokyo without going home with overfilled luggage. Tokyo is truly a sartorial paradise where you can find price worthy Japanese products and also clothing from exclusive Italian brands known in the western market. Anyway, here we go..
Located in Shinjuku this high-end department store is kind of misplaced, however if you're into menswear this store is a MUST. They pretty much have all brands that you can think of, so you'll probably find what you're looking for. They also offer an interpretation service which is incredibly valuable since most people in Japan don't speak English at all. The downside is that most of the staff aren't very passionate which you can see pretty easily by e.g. the way they dress.
This was among my favorite stores in Tokyo, I visited the shop in Harajuku and you simply cannot miss this one. You notice immediately when you enter the store that the staff know their thing and that they are very passionate. Here you will find brands like Belvest, Guy Rover, Stile Latino and in addition to that they also have their own brand which is very price worthy.
Definitely my favorite shop in Tokyo, their take on classic menswear is incredible! They have their own brand which is really great, the style is very Neapolitan and the quality is superb with many handmade details(or entirely handmade). In addition to that you'll also find brands like Lardini, Boglioli and many more. I visited many United Arrows stores during my trip but my favorite one was their store in Harajuku.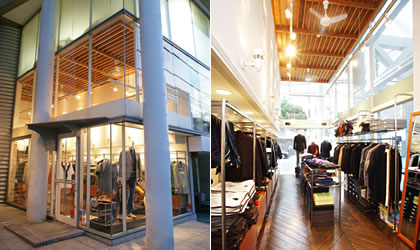 Located in Harajuku this store offers classic menswear clothing with a youthful touch. This is where you wanna go if you're looking for a bold sportcoat for the fall, or perhaps a sette pieghe tie from Tie Your Tie. Brands include Lubiam, Boglioli, Gajola and many others. Also the staff at B.R shop are really stylish, which is a big plus. 
At Ships you'll probably find whatever you're looking for, their range is really good. I visited quite a few Ships stores but the one I enjoyed the most is located in Ginza. Here you'll find Boglioli, Borrelli, Alden, Valstarino, Ring Jacket(Ships have a collaboration with Ring Jacket, so if you're looking for a price worthy suit this is where you wanna go) and much more.
A huge store in Roppongi Hills(there are quite a few more as well) that you cannot miss out on. The store offers more than just classic menswear, they also have lots of more fashion oriented brands. They offer Isaia, Lardini, Gianfranco Bommezzadri, Stile Latino, Eidos, Finamore and Lubiam among others. Their range is pretty wide and if you're in the area you can also check out the Kiton store which is nearby.  
I had heard about this store before going to Tokyo and by accident I ran into one of their stores in Tokyo, unfortunately the smallest of their stores. However if you're near the Tokyo Station/Marunouchi Building you should really go here, I wouldn't say that the store has anything special to offer but I thought the staff were really helpful and I ended up buying a jacket from Ring Jacket. Other than that you'll find brands like Lardini, Fray, Sartorio among others. Right next to the clothing store you'll find their footwear store(pictured above).
A great store if you're looking for more fashion oriented clothing, however they have a great tailoring department where you'll find some price worthy products from their own brand mixed up with extremely expensive clothing from e.g. Cesare Attolini. Other than that you'll find great knitwear from Drumohr, accessories from Drake's London and much more.